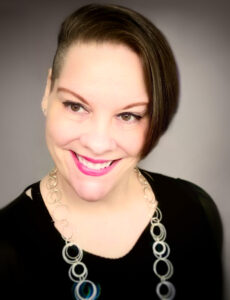 Beautifully Inclusive started as a "passion project" and has grown into so much more. Jayde Malam officially launched Beautifully Inclusive as a full time accessibility consulting business in 2021.
Why Beautifully Inclusive? Because inclusivity is beautiful! In the built environment, inclusivity is the sweet spot where design and function blend seamlessly to bring people together. In life, it's the sweet spot of knowing you are respected, safe, loved, and supported.
Jayde enjoys using universal design practices to make inclusive, accessible spaces that can be enjoyed by all. Jayde combines her knowledge of best practices with her lived experience to build empathy and understanding across disciplines. She has a keen understanding of systemic design and how small changes can have big impacts.

As someone with multiple disabilities, Jayde has learned a lot about how to live in a not-so-accessible world. She is using that knowledge and her training to help create change in the built environment. She is a passionate advocate of accessibility, health and wellness, and human rights. She firmly believes working to make the world more inclusive is important for quality of life, equity, and equality.
She consults on projects across Canada.
Beautifully Inclusive specializes in:
Targeting the CMHC MLI Select program requirements through universal design
Completing Rick Hansen Foundation accessibility ratings
Performing accessibility assessments
Advising on existing builds looking to renovate
Helping to guide accessibility practices in new builds
Accessibility consulting at all stages of a build
Public speaking
No build should ever aim for "code compliance" as the final product, code is just the starting point for accessibility, we can (and must) do better.

The key to amazing accessibility is bringing an accessibility specialist on board at the earliest possible moment, this saves money, time, and frustration of needing to go back and make changes to drawings, purchases, and budgets.
---
Beautifully Inclusive is an 2SLGBTQIA+, disabled, woman-owned business that supports human rights and equality for all, and is a safe, respectful, trauma-free space.
Beautifully Inclusive has tried to provide an accessible website but in no way claims to be perfect, so if we have missed anything, please let us know.
---
Current Certifications
Certified Professional in Accessibility Core Competencies (CPACC) with International Association of Accessibility Professionals (IAAP)
Rick Hansen Foundation Accessibility Certified professional (RHFAC) with Rick Hansen Foundation of Canada
Certified in Adaptiv Home Renovations with Canadian Home Builders Association
Certified Accessibility for Ontarians with Disabilities Act with Accessibility Services Canada, Canada
Certified Fitwel Ambassador with Fitwel Certification System USA
Current Memberships
Rick Hansen Accessibility Professional Network
International Association of Accessibility Professionals
Focus Disability Network Society
Canadian Home Builders Association
Partnerships
Beautifully Inclusive has joined in vender partnership with EVNA Engineering, an independent consulting firm that focuses on energy & building engineering.

EVNA Engineering supports energy efficiency initiatives in new building construction, and deep energy retrofit programs.

Together, Beautifully Inclusive and EVNA Engineering are able to provide a full suite of services that we like to call Accessible Performance Engineering. We work together to find the balance of high performance engineering and strong universal design practices to successfully meet the criteria for the MLI Select (previously MLI Flex) program by CMHC.

---
Introductory Video
---
Testimonials
"The passion, knowledge, and expertise for accessible design was on full display when working with Jayde. Not only was she able to meet our tight schedule, but she went above and beyond.
Jayde delivered a very thorough summary focused on highlighting current accessibility design features, including many recommendations on how to take our design to the next level for a fully inclusive, accessible building design.

Jayde was able to explain her recommendations in great detail, provide links to products, and vender contacts for all of her suggestions. I was most impressed with the wide range of accessibility features that she was able to implement into her designs. Absolutely nothing was overlooked."
Bryn Wagler, Project Manager, Hyde Construction Ltd.
---
"After seeing Jayde's amazing insight and fantastic presentation skills I invited her to join the team of subject matter experts at Sustainable Buildings Canada's Savings By Design program that provides up to $100,000 in incentives to projects exceeding Ontario Building Code.

Jayde is professional, reliable, and very knowledgeable about accessibility. Her own lived experience provides a depth and breadth of knowledge, which is complemented by her ability to apply and go beyond codes and standards. She is constantly learning and adding to her expertise. What I admire most about Jayde is her ability to provide accessibility reviews and recommendations that are well founded, easy to comprehend and implement, and truly take the occupants current and future needs into account, providing dignity, comfort and true accessibility."
Bettina Hoar (she/her), CEO & Sustainability Facilitator, Sage Living Toronto
---
"Jayde Malam of Beautifully Inclusive is incredibly well equipped to provide the expertise and recommendations needed, not only for accessibility, but for inclusion for all people. With her lived experience and extensive knowledge, Jayde is my most trusted source. Not only does she have the knowledge, she is also able to translate it in a kind and thoughtful manner, making it a truly positive experience for all."
Donna Kawahara (she/her), Founder, Inspired MountainGirl
---
"I was not only impressed by how knowledgeable and passionate Jayde is about all the accessibility challenges that come along with different types of disabilities, but I was also BLOWN AWAY at how much she prides herself on going above and beyond the bare minimum code in everything she's involved in—including taking the time to educate me on why breaking down areas of exclusion for people with disabilities is so important. It was genuinely impressive (and I mean seriously cool) how she was able to take the most problematic areas and turn them into some of the most appreciated parts of the space by everyone. The cherry on top of working with Jayde is that she's one of the most amazing, reliable and easy-to-get-along-with people I've had the pleasure of working with."
Matthew Smith, Co-founder Modern Gravity
---