One of my worst disabilities now is my severe cervical arthritis (C1 to C4 spine/neck). This disability causes nearly intolerable, daily chronic pain in the form of headaches and muscle spasms.
Over the last decade this disability has gotten worse, there are many days that I struggle to function, including basic self-care and working. On the hard days it is even challenging to simply hold up my big bobble-head, a physiotherapist once referred to my neck muscles as "like those of a newborn baby". Working at my desk in this state is challenging to say the least.
Have no fear though, one thing disabled people know how to do well is adapt. If we can't find a piece of accessible equipment (or if it is ridiculously overpriced) we come up with solutions. The old saying is true, "necessity is the mother of invention."
I tried wearing various neck braces over the years, but they just weren't supportive enough. One day with frustration coursing through me, I decided that there MUST be something out there to "hold my head up!", and the search was reignited.
After about an hour of searching I could not find anything that would really work for me and my setup, and then I realized I needed to simplify! The clouds parted, the sun beamed down, birds sang, and the choir kicked in – It was an ah-ha moment. Ok it was not REALLY that dramatic, but it was still pretty good.
I bought this.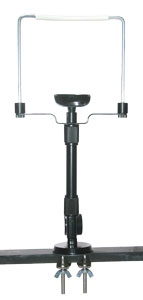 You may recognize it as a vision testing chin rest! It clamps on to my desk and holds my big bobble head up any time I need support. When I am not using it, I just pop it out of the clamp.  The best part is, while it brings me awkwardly CLOSE to the camera, once I removed the forehead support (the top half), no one can even tell I am using it on camera unless my camera aims too low.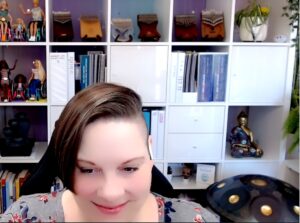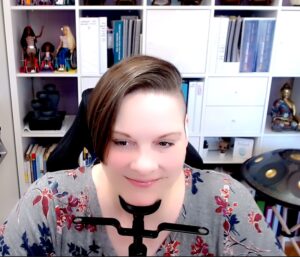 I love these tweaks, and I have SO many of them! If you have re-purposed or invented something to make your day easier or more accessible, please share! I love to hear things like this.